iGold Advisor is dedicated to providing investors with the highest quality independent research on the precious metals market.
We receive no compensation from any of the financial institutions or companies featured in our reports. We are solely dedicated to helping our clients.
Should you have any questions, please do not hesitate to contact us here.
---
Precious Metals ETF's – A Comprehensive Guide to Buying Gold & Silver with the Click of a Mouse.  41-page PDF.   
To view a free sample, simply click on the preview pages below.
Full reviews of every publicly traded gold and silver ETF (exchange-traded fund). Includes detailed analysis and suitability ratings for both investors and short-term traders for over 30 funds. Includes our #1 pick for each sector.
If you are going to invest in precious metals, do it right. The wrong choice of a precious metals ETF can cost you thousands of dollars over several years. We have witnessed investors be right on the price rise in gold, but because they chose the wrong fund, to lose money in the long run. Do not be a victim to the tracking errors, hidden fees, or excessive taxes that plague so many gold funds. Invest with us and know you are getting the best research in the industry.
INSTANT DOWNLOAD – $49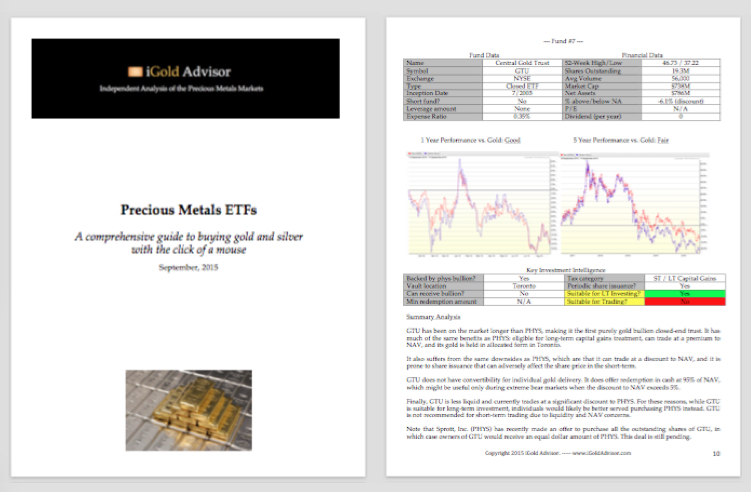 Our credit card payments are processed securely through Paypal.
Questions? Contact us.