We often get asked: which dealership do we recommend for physical gold and silver purchases?
There are many factors for an investor to consider:
What premiums does the dealer charge?
How soon after ordering will I receive my gold and silver?
Is free shipping and insurance included?
Will the dealer try to convince me to buy a more expensive product than I originally intended?
Can I sell back to the dealer when I am ready to cash in my metals?
I have independently investigated most of the largest gold and silver dealerships in the United States, and I can fully recommend Bullion Exchanges.

Based in New York City, Bullion Exchanges ships nation-wide. Their prices are among the lowest in the industry. Orders can be placed online or by phone. Shipping and insurance are included for free on all orders above $75. Once payment clears, standard delivery times are within one week.
I have personally visited Bullion Exchanges in New York City and have seen their operations. I have met with the owner on several occasions, and visited the shipping and merchandising departments. I can say that Bullion Exchanges operates a lean and efficient nation-wide dealership with no gimmicks or hassles. They sell most popular gold and silver products at the lowest prices available. They will also buy your precious metals back from you, if you ever desire to sell them in the future.
There are a lot of choices in precious metals dealerships, and it is important to know that you will quickly and discreetly receive the gold and silver you want. I fully endorse Bullion Exchanges, based on my independent investigation into the industry.
You can visit Bullion Exchanges and place an order online by clicking this link: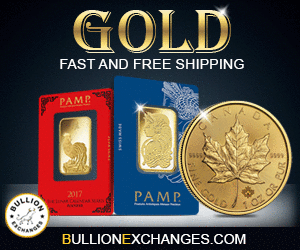 I am confident in the pricing and service you will receive.
Best success—
Christopher Aaron, Founder
iGold Advisor

Note: Unlike other sources, we do not always believe that NOW is the best time to buy. There may or may not be lower prices ahead, and so there is much to be gained by formulating a proper strategy to take advantage of future price swings. For those who desire an independent session in which we can assist you in understanding the pros and cons of various investment strategies — we offer one-on-one consultations.
We work with individuals — from beginners to advanced traders.
Always independent. Always on your side.
You may book a consultation online by clicking HERE.